Become an APCO 2020 Sponsor and Be in the Spotlight
of attendees reported that they would make a purchase from an APCO exhibitor/sponsor. Here is your chance to put your company in the spotlight in front of thousands of attendees.
Featured Sponsorships
Floor Decal & Ad Wall Combo – Convention Center: $3,800; Host Hotel: $2,000
Increase your visibility with a custom floor decal and double-sided ad wall.  Use these items to feature your booth, product and/or brand.
Aisle Signs – 4 for $5,000
Your message will be displayed on four aisle signs in the exhibit hall.  Great way to stay in front of attendees.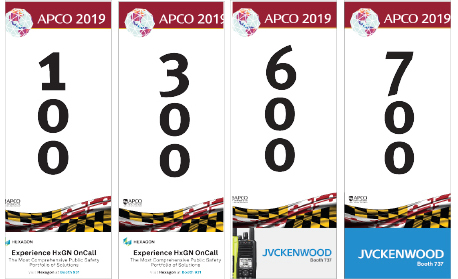 Floor Plan Advertising Package – $5,000
So much packed into this package! Custom ad, booth and company name highlighted on stationary floor plan located in exhibit hall.  Company logo, booth and company name highlighted in fold our map of exhibit hall.
Rest & Recharge Lounge – $7,000 (Only 4 left)
Located in high traffic areas, this lounge area can be yours.  Large wall cling and double-sided ad wall personalizes this space.

Young Professionals Mixer/Community Project – $7,500 (Exclusive)
Support our young professionals by being the exclusive sponsor of their community project and mixer.
---
Follow APCO Expo on Facebook and see the latest updates on the Expo.
For a customized sponsorship package and options, contact Lisa C. Williams, CMP, CEM, Director of Corporate Outreach, (571) 312-4400 ext. 7003 or williamsL2@apcointl.org